Does your regular workout routine look different thanks to COVID-19? If your gym is closed and you're tired of working out in your living room, break a sweat by exploring these six sets of steps scattered throughout the city. As an added bonus, most lead to stellar vantage points. So what are you waiting for? Get outside and get moving!
Krohn Conservatory Steps at Eden Park
Eden Park makes for a great walking circuit, with its various walking trails, Ohio River views, and Krohn Conservatory, which is surrounded by beautiful trees and blooming flowers. We suggest parking on Eden Park Drive to take the staircase that starts the conservatory's parking lot. At the top, you can soak in gorgeous views of the river and Northern Kentucky. Be sure to check out the rest of the park and its stairways while you're there.
---
Parkline Avenue Steps at Ault Park
Like Eden Park, Ault Park is known for its hills and scenic views. Park at the intersection of Brentwood and Parkline avenues and ascend a set of semi-secret steps that lead to Observatory Avenue. Then walk around the park and explore its overlook and historic pavilion near Observatory Circle and reward yourself with a quick photo shoot at Brumm Garden. This path is perfect for a morning run or walk, as long as you don't mind a few steep inclines.
---
Elsinore Place Steps
Right outside of the WCPO-TV building stands the castle-looking Elsinore Arch, which was constructed in 1883 for the Cincinnati Water Works and is now registered as a national historic landmark. Here you'll find a set of fossilized and sandstone steps that lead to the Cincinnati Art Museum. Park on Gilbert Avenue in front of the WCPO-TV building, pass through the arch, and follow the stone steps up to Mt. Adams. See if you can make your way from the arch to the art museum to the gazebo in Eden Park and back.
---
Mt. Airy Forest's Stone Steps
You're guaranteed to get your daily dose of nature at Mt. Airy Forest, the city's largest park at almost 1,500 acres. While the park boasts various trails, all rated by difficulty, we suggest hiking the Stone Steps. Start at Red Oak Trail (C Trail) near the intersection of West Fork Road and Colerain Avenue and walk northeast to find the Stone Steps Trail, which consists of almost 300 stone steps that ascend to Steps Ridge Road. Pack some food so you can enjoy a picnic at the top, or continue exploring Mt. Airy Forest's trails.
---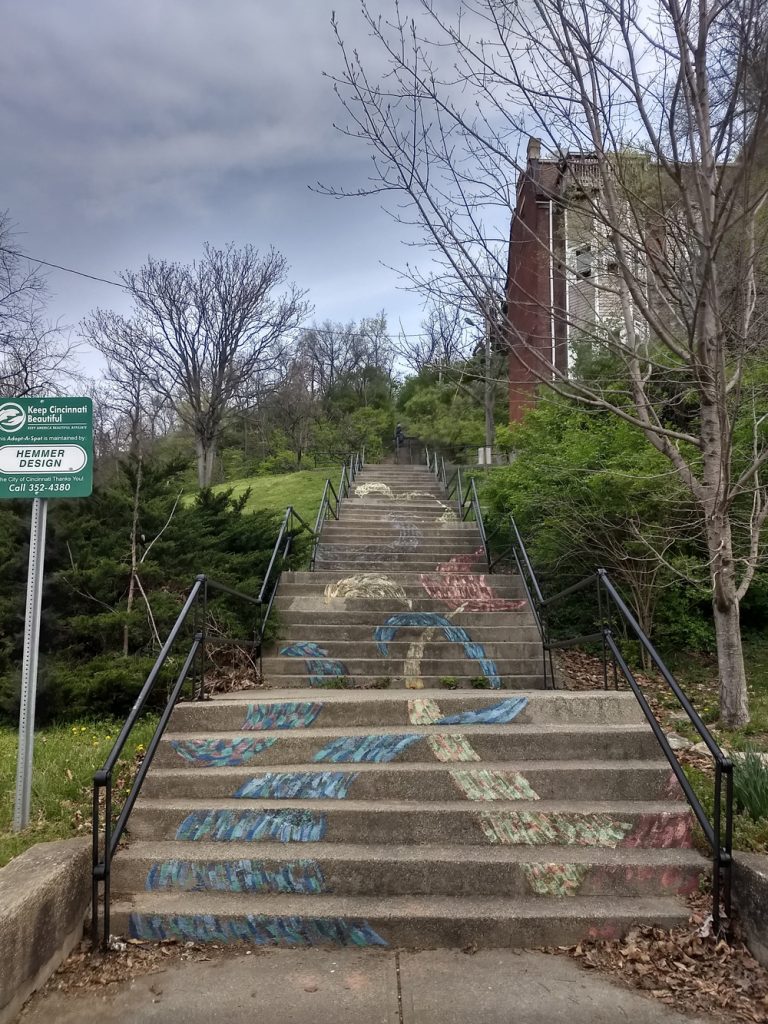 OTR Main Street Steps
If you really want to sweat, check out the city's longest public staircase at the corner of Main and Mulberry Street. A series of stairways spans about 890 feet, connecting five streets along the former Mt. Auburn incline. Along the way, you can admire spring foliage and the city's skyline behind you. You'll finish at Eleanor Place near Jackson Hill Park in Mt. Auburn.
---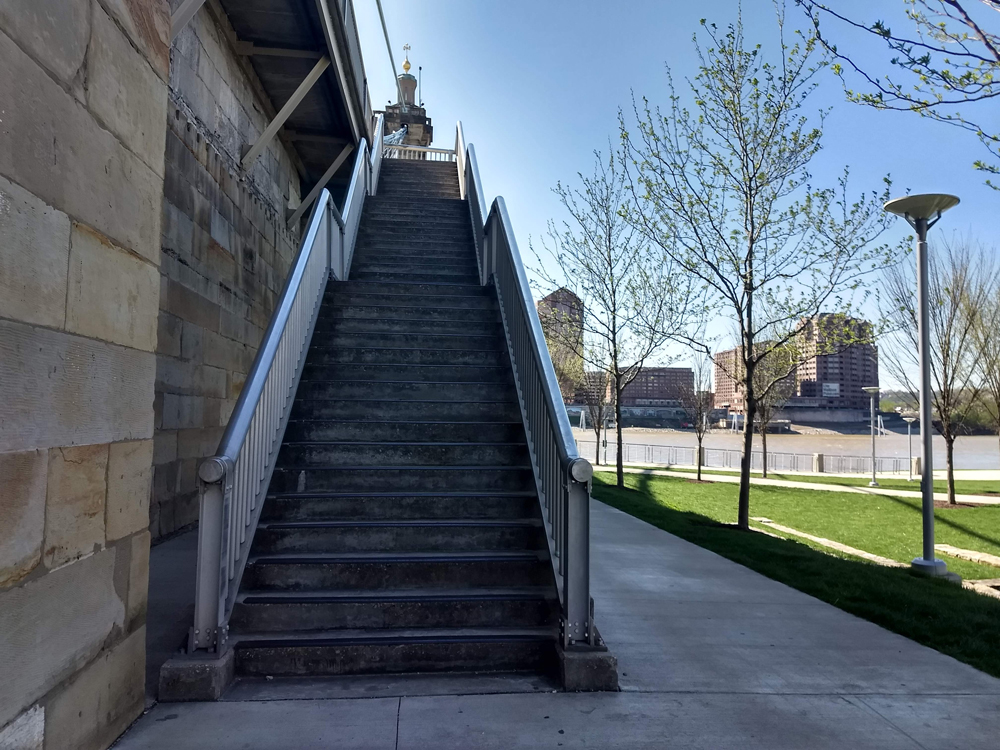 Roebling Bridge Steps
Want a close-up view of the Ohio River? Head to Smale Riverfront Park to access two sets of concrete stairs at the base of the Roebling Bridge. Walk up either set to access the walking paths located on each side of the bridge. Walk across the bridge into Covington, Kentucky and back to enjoy the park's spring blooms, water features, swinging benches, playground, and more.
Facebook Comments