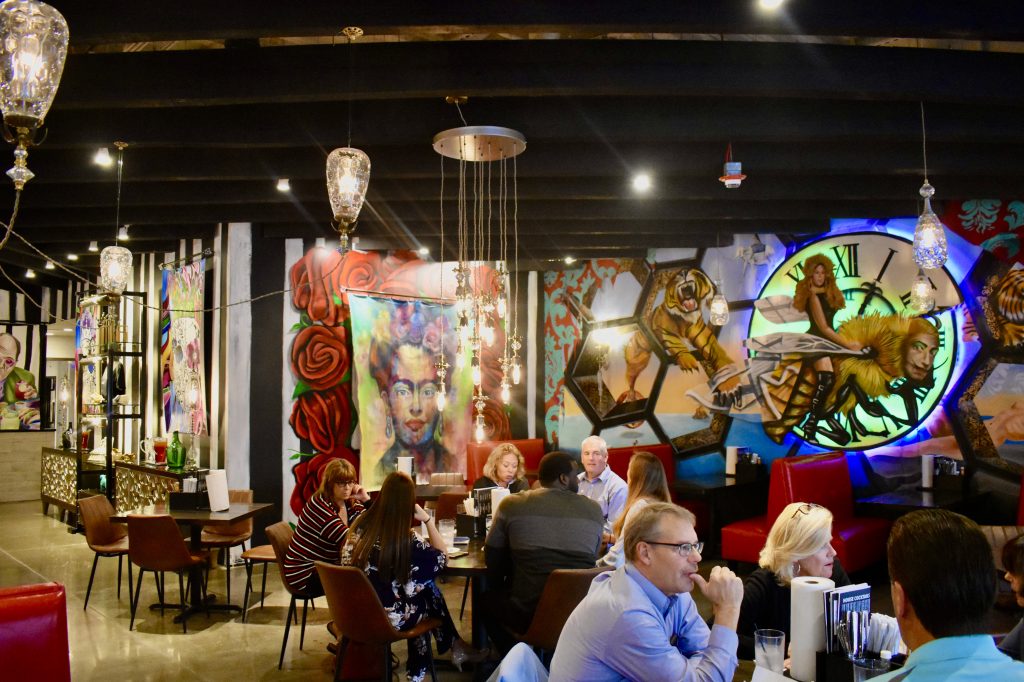 Agave & Rye, the Kentucky-born Mexican eatery that prides itself on "epic" tacos, opened its doors in Butler County this past weekend. Located in Liberty Center, the new spot boasts more space, a hostess stand—which Covington regulars will be excited about—and several menu additions.
After launching in Covington in February 2018, Founder Yavonne Sarber opened Agave & Rye's second location in Lexington later that year. Sarber was excited at the prospect of a Liberty Center location, as she was familiar with the center's developers, who are also responsible for Easton Town Center in Columbus. "We actually sought this out because we knew that it was the same developers and we knew what this will become, and it's already started," Sarber says.
Complementing Liberty Center's movie theater and comedy club, Agave & Rye's kitchen will stay open until 2 a.m. Monday through Saturday, making it an ideal stop for late-night bites. The larger space, which sports bright red booths and colorful portraits of Frida Kahlo, Cardi B, and Lil Nas X, puts a focus on guest convenience. In addition to a hostess stand and waiting room, customers will be able to a join waiting list online and receive texts notifying them when their table is ready.
As for the menu, guests can enjoy a range of 17 epic tacos—filled with unique proteins and veggies—including vegetarian and vegan options, like the new Pumpkin Eater. Also new to the spot are the Swanky Wonton Nachos—a ginger-marinated tuna poke on crispy wonton chips—and the Mama Mia Chicken Parmesan bowl.
"For us, we want every experience to be epic," Sarber says. "I think that people having fun with their food is super important."
For cocktails, customers can try the new fig, vanilla bean, and cardamom "teqini," blood orange winter sangria, and an ever-expanding menu of flavored frozen margaritas. The spot will also host margarita Mondays with $6 margaritas and discounted corn tortilla street tacos. Along with beer and wine, the sprawling bar offers an extensive signature tequila and bourbon list, carrying 70 brands of each. Unique to this location, Sarber is looking to add local bourbon selections to the menu as well.
Look ahead, the kitchen will also serve as the headquarters for Agave & Rye's upcoming catering service. Sarber plans to open her next location in Louisville.
Agave & Rye, 7125 Fountain View Dr., Liberty Township, (513) 779-8226
Facebook Comments