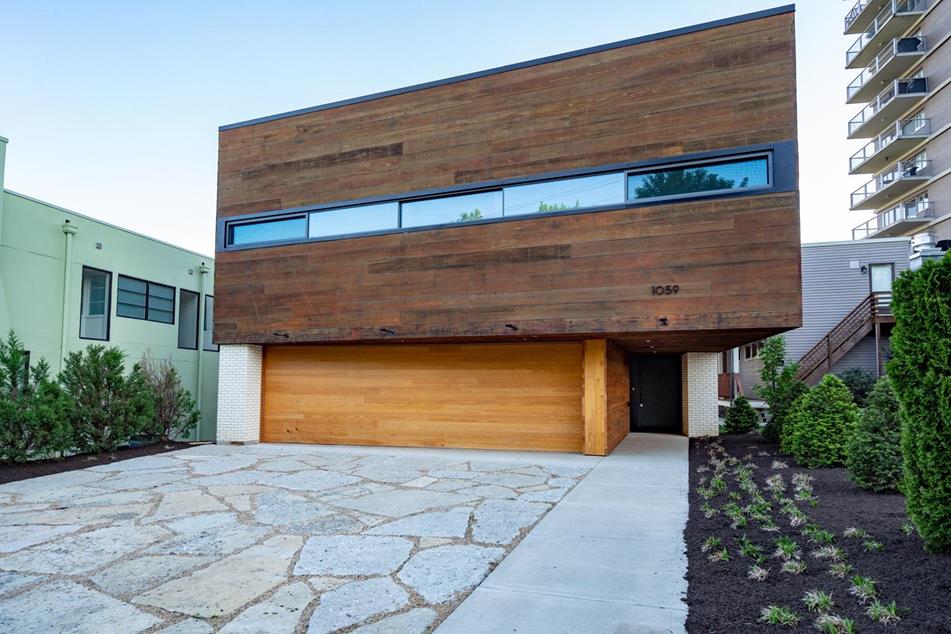 Looking for the coolest home in Cincinnati? This may be it. Inconspicuous next to the high-rise Highland Tower Apartment building and event space The View at Mt. Adams, it's perfectly positioned for panoramic views of both sides of the river.
Built in 2017 by Jose Garcia, who's known for modern structures like the massive modern condo building in Hyde Park, the simple lines of this home's exterior telegraph the elegant modern style found within.
From your first step inside, the variety of materials used make clear the thoughtful design process. Tennessee sandstone tiles line the first floor, lower level, staircase, and outdoor terrace. Walls and ceilings on the first and second floor, and floors on the second floor are 100-year-old Douglas Fir reclaimed from a demolished Indiana cotton mill. That's not the only place where sustainability shows up: the home is currently in the process to become LEED Platinum certified.
With views like this, you're going to need windows. The ones used here are imported from Luxembourg, and they help create one of the home's best features. "The indoor atrium on the first floor is awesome," says listing agent Michael Franz. "It's a stunning space that brings nature [and] the outside in."
Because the home uses nearly the entire width of the lot, there's plenty of interior space, and the open floor plan means city views are plentiful, especially on the main level, which holds the living "room," dining "room," and kitchen, which features high-end stainless appliances including a massive glass door fridge, double wall oven, and wine fridge. The cabinets are custom-designed by Garcia in bleached oak with dark bases.The entire glass wall can open up to a balcony that lines this level, a sort of junior partner to the sweeping terrace on the second level.
Upstairs, the master features more dreamy views, but we're loving the master bath. The whole space is lined with more of that gorgeous Tennessee sandstone, there's a skylight for bringing in the sun, and the shower doesn't even have an enclosure, just small holes for drainage and multiple shower heads. There are two more bedrooms (with a Jack and Jill bathroom) on the second floor, but the lower level has us wishing we could have quarantined here—with a bedroom, full bath, and huge workout room, no excuses can be made for not breaking a sweat in that space.
Back to that second floor terrace. It's huge. There's plenty of space for multiple seating areas, a dining table, and a slick fire pit. "It's a piece of art that you can live in," says Franz. "It flows beautifully and [is] great for entertaining while still feeling warm despite its size and design."
Click through our gallery to view more photos of this home:
Facebook Comments