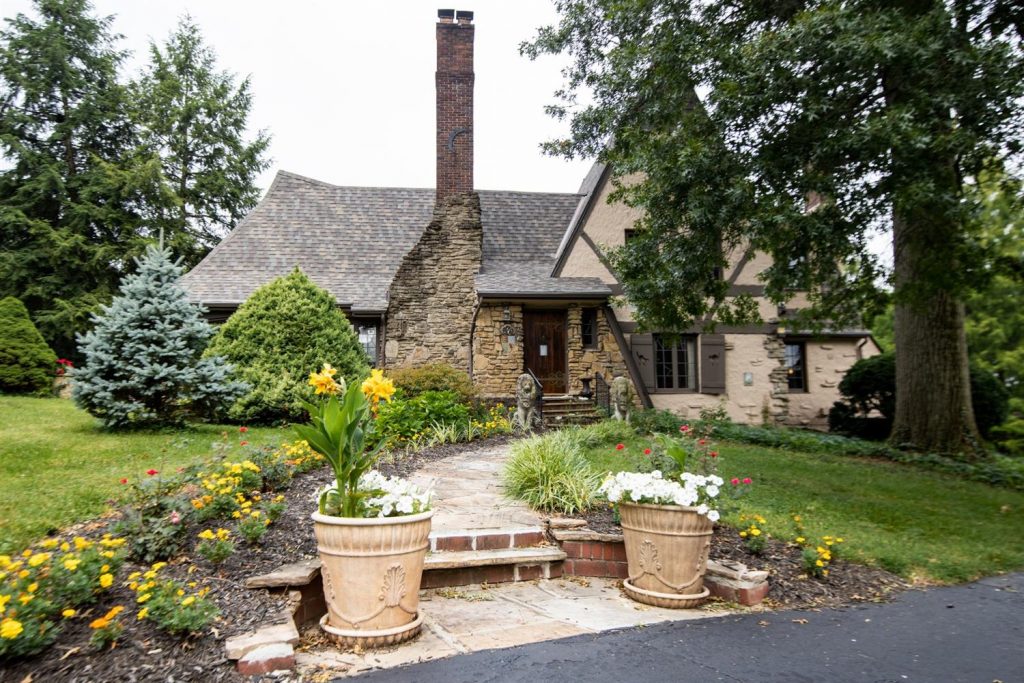 As if it were plucked off a page of Lord of the Rings, we can't believe this medieval-style tudor exists in Cincinnati. Tucked away in College Hill, the 1927 Cotswold Tudor is nestled on a private tree-lined road.
"Almost 40 years ago, I purchased this home and planted many conifers, including now a grove of 70-foot Sequoia redwoods," says current owner William Lemon. Partially hidden by the trees, the home's exterior is composed of stone and brick. The ornate landscaping is meticulously groomed and features a stone-paved entry to the home, which boasts a gorgeous wooden door and hand-painted custom family crest.
The medieval-style details continue inside the five-bedroom, three-bath house. "My favorite room is the great room," Lemon says. "The fireplace is the center of attention, as it should be in a stately home like this." With 16-foot ceilings, the room also features pegged oak and slate floors, a balcony that steps out from the master bedroom, a gothic chandelier, and another hand-painted family crest. The dining room shares a similar design, with slate floors and a beamed ceiling, but the home office off the dining room is even cooler. Step through its rounded door and feel like you're entering J. R. R. Tolkien's lair. A small window allows natural light to illuminate the space, which comes complete with wood floors, a fireplace, and brick and wood-paneled walls.
Throughout the home, you'll find custom windows featuring spider web–like windowpanes, Rookwood Pottery tiles, and, of course, more family crests. Even the entryways are worth noting, complete with pointed archways.
Starkly different from the rest of the house is the unexpected "normal" kitchen, including amenities like granite countertops, stainless steel appliances, ample storage space, and a breakfast nook that's backlit by large windows. The bedrooms also favor more traditional designs but incorporate unifying details, such as arched doorways and wooden interior shutters.
Located on a 2.5-acre wooded lot, the home's backyard offers a peaceful garden, mature trees, in-ground pool, a poolside pergola, and a fire pit. There's also a spacious patio just off the great room that overlooks the pool. "This house is a distraction from the stresses of the day," Lemon says. "Many vacations were just spent at home for obvious reasons."
Click through our gallery to view more photos of this home:
Facebook Comments