Sitting in a circle, a group of visitors from the U.S. listens as Rudy, 13, shares his aspirations for becoming a doctor. A few seats down, a 13-year-old girl wants to be a physical education teacher. The next, a veterinarian.
The odds, unfortunately, are stacked against them. These youth come from rural indigenous communities in the Central American country of Guatemala, where nearly four out of five children live in poverty and 90 percent don't graduate high school—a necessity to reach any of these dreams.
But they're candidates for the Rise Youth Development Program, which provides full academic scholarships and wrap-around support services to poor students in Guatemala. The scholarships help students stay in school and begin to think differently about their futures. Rise is one of four distinct programs offered by Cooperative for Education (CoEd), a Cincinnati-based nongovernmental organization working in the country now for 27 years.
What began as a single textbook program in one impoverished community in Guatemala is now a multilayered approach to improving academic outcomes in a country with one of the world's most inequitable economies and highest illiteracy rates. In partnership with the communities it serves, CoEd now administers 191 textbook programs, 141 reading programs, and 56 computer technology centers in schools located in 12 of Guatemala's 22 departments (or states). It currently supports 931 Rise scholars and to date has served more than a quarter of a million Guatemalan youth with its programs.
"We gave them a hand and opened the door, and they walked through it themselves," says Executive Director Joe Berninger, a Clifton resident who cofounded CoEd with his brother Jeff in 1996. The organization has since grown to 62 full-time positions: 14 in a Westwood office and 48 in two offices in Guatemala.
Programs are supported by the Guatemala Literacy Project, an arm of the global humanitarian organization Rotary International, and CoEd is a member of the Obama Foundation's Girls Opportunity Alliance. The goal, Berninger says, is to address the root causes of poverty in Guatemala and to help build a middle class where there is none.
Conditions drove an estimated 620,000 Guatemalans into the U.S. illegally in 2018, according to statistics from the Department of Homeland Security, representing the third largest group of unlawful immigrants here (behind those born in Mexico and in El Salvador). There were also about 180,000 legal permanent U.S. residents from Guatemala as of 2022. Guatemalans represent about half of the child migrants in a new report by The New York Times called "Alone and Exploited," which found record numbers of child migrants in the U.S., many working in dangerous jobs that violate our child labor laws.
No matter your political persuasion, says Berninger, people can agree it's better to provide youth with a chance to prosper in their own communities than to consider life as a migrant worker or part of one of Guatemala's criminal groups. CoEd's mission is to break the cycle of poverty through education, and to do that the organization raises roughly $3 million a year from thousands of individuals, private and family foundations, Rotary clubs, corporations, and churches.
Service trips to the country are the organization's lifeblood, says Berninger, helping donors and potential donors get a glimpse of life in Guatemala and CoEd's work. Solo travelers, families, and groups can sign up for one of four tour options, averaging $1,000–$2,000 per person. To date, CoEd has taken 1,337 individuals from around the globe to Guatemala, nearly 500 of them from the Cincinnati area.
The results are encouraging. The Rise program alone has nearly flipped the earlier graduation statistic, with 80 percent of its scholars earning a high school diploma. Along with the work of its educational partners, high school graduation rates are up 5 percent throughout Guatemala in the last 20 years.
"The people who get involved want to be part of something bigger," says Ann Dempsey, CoEd's director of philanthropy. "The world's problems can feel very big and overwhelming. One thing CoEd has to offer is a system in which people can plug in and make life better for all of us."
---
It's day one on the bus on a Snapshot Tour in February, and Mayra Sidler Guzman is welcoming travelers from Las Vegas, Ohio, Colorado, and Michigan. Originally from Guadalajara, Mexico, she is CoEd's international programs manager and one of the guides for this tour.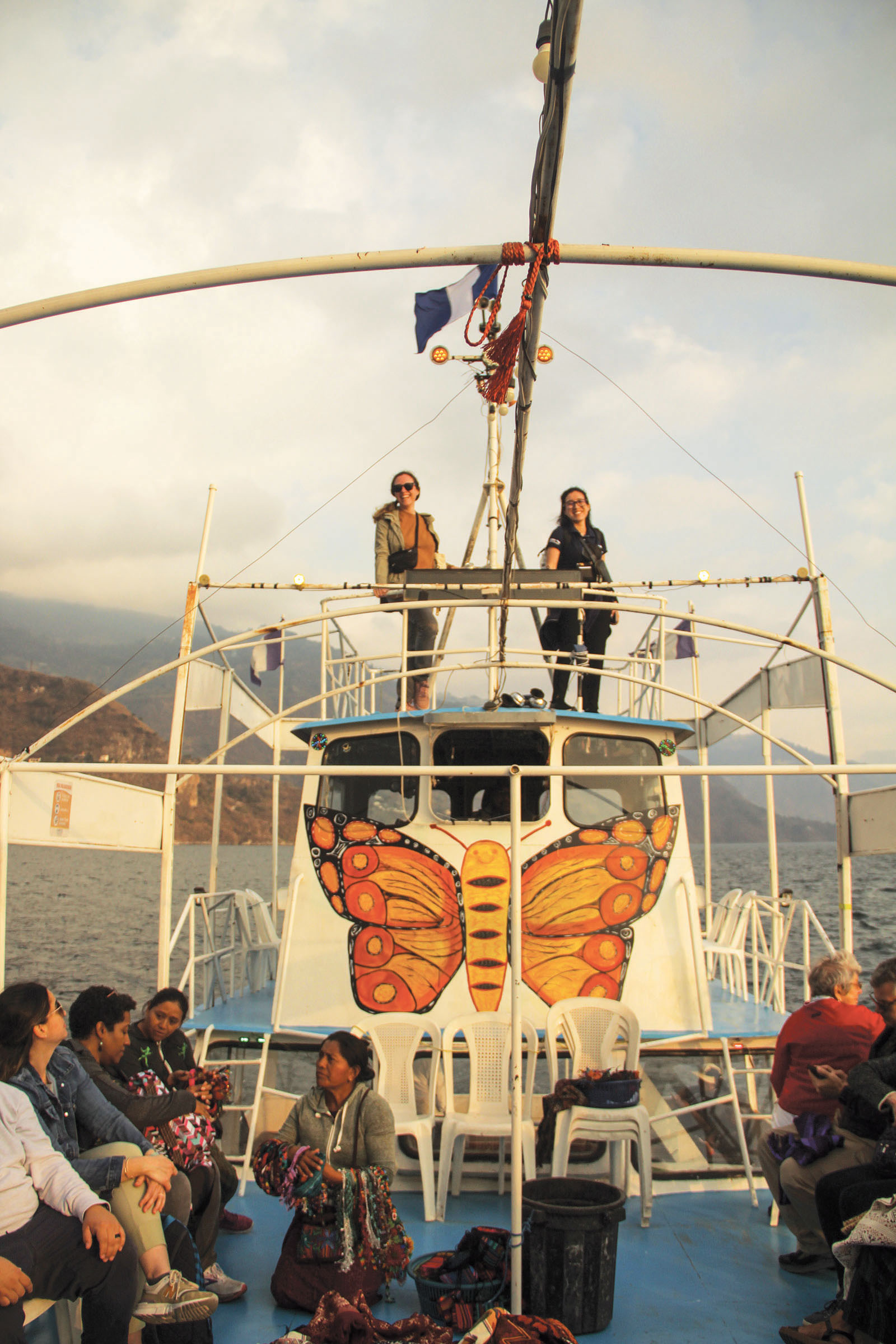 The bus rolls out of colorful and historic Antigua and up into the Western Highlands, a region packed with volcanos, a few of them active. As the caravan climbs up winding roads toward the first school on the tour, Guzman provides background to the visitors, many of whom have never been to Guatemala. "About half of the people of Guatemala are of native Mayan decent," she says. "They are called 'indigenous' here."
The country is similar in size to Ohio, bordered by Mexico, Belize, Honduras, and El Salvador. It's called "la Tierra de la Eterna Primavera" ("the land of eternal spring") for its year-round temperate weather. Part of the country is a tropical rainforest and part is lowland forest, with coastlines on the Pacific Ocean and the Caribbean Sea. "Anyone want to guess how many languages are spoken in Guatemala?" Guzman asks. "It's 24. Twenty-one Mayan languages, plus Spanish, and two spoken by non-Mayan tribes on the coast."
She hands the microphone to Pamela Oliva, a native Guatemalan recently hired by CoEd as a tour specialist. Oliva begins to explain why educational outcomes are so bad in Guatemala, particularly for the indigenous people. "They are heavily discriminated against," she says. "My mom always says poverty has the face of an indigenous woman, because women are less likely to stay in school and are seen more as wives and housekeepers. This is what CoEd and the Rotary are trying to change."
Guatemala's tumultuous history kept the country from developing a good public school system. The Spanish invaded in the mid-1500s, ruling until the country's independence in 1821. Over those centuries, indigenous peoples' lands were stolen and they were often enslaved. Post-independence wasn't much better, as political parties—both left and right—did little for the country's poorest citizens.
A succession of military governments devolved into civil war from 1960 to 1996, which pitted European-descended civilians (often aligned with foreign interests, including the U.S.) against rural indigenous Guatemalans. An estimated 140,000 to 200,000 people were killed or forcefully "disappeared" during the conflict, now recognized as a case of genocide.
The war reverberates through her country today, says Oliva. More than 50 percent of Guatemalans live in poverty, compared to less than 12 percent in the U.S. One of Oliva's friends was a child when everyone in his village scattered during a raid and he was separated from his family. Raised by a family in Guatemala City, just last year—some 30 years later—he was reunited with family members.
Discrimination, underrepresentation, and war have all led to Guatemala's current situation, where one in three indigenous adults can't read or write and has an average five years of education. Households live on $4 a day, compared to $197 in the U.S. In Guatemala, that $4 often includes wages brought in by children in the family.
Remember Rudy, who wants to be a doctor? He works almost daily in the fields. The 13-year-old girl a few seats down works at her grandmother's convenience store. Another helps his father work two jobs, as a mechanic and loading trucks. It's so common for kids to work that many schools in Guatemala offer morning and afternoon sessions to accommodate work schedules.
Still, more than half of indigenous youth drop out by sixth grade, with girls leaving at a higher rate. "Americans might see this as a bad choice, taking children out of school," says Guzman. "But for many, it isn't a choice at all. It's the only option if the family wants to survive."
---
The CoEd caravan bounces down a dusty road on the way to an indigenous village outside of Tecpán, where two schools are newly enrolled in CoEd's textbook program. When a new school partners with CoEd, the organization likes to celebrate with students, teachers, administrators, and the surrounding community, scheduling inauguration ceremonies and school visits with tour groups so that everyone can meet.
The caravan approaches an unexpected small river rushing over the roadway, created by a recent rainstorm. With much excitement and a little trepidation from passengers, the bus driver decides to forge the shallow rapids—sloshing through without incident.
Once at the schools, the foreign visitors are given a warm welcome, showered with smiles and heartfelt gifts, like handmade "Thank You" cards and small crafts. Speeches are given by the principal, students, teachers, CoEd staff, and a representative of Guatemala's Ministry of Education. For the first time, this secondary school will have history, math, and social studies textbooks.
Most schools normally start partnering with CoEd through its textbook program. It was CoEd's first project, designed for a school where Jeff Berninger began teaching in the 1990s.
He and Joe came to Guatemala in their 30s to visit their uncle, a Catholic missionary. The brothers fell in love with the country. Jeff began volunteering in a school outside of Antigua and was astonished to find no textbooks in the classrooms. Students copied lessons from the chalkboard, a dull and time-consuming task.
The brothers ruminated on a self-sustaining textbook program. With community buy-in and an initial grant from Procter & Gamble, they purchased books for the school. Parents agreed to pay a small rental fee every year—now $1.50 a month for a set of books in core subjects—which goes into a revolving fund to replace the books every five years. It was a hit, and other schools wanted in.
Today, there are 191 active CoEd textbook programs serving almost 22,000 Guatemalan students. When surveyed, 100 percent of teachers said their students understood course material better with the textbooks and the program has allowed teachers 25 percent more time to engage students with questions, discussion, and critical thinking.
Next came CoEd's computer centers program, which works much like the textbook program. Families agree to pay about $3 a month for their children to use computers, offsetting the cost of new equipment and technology. Nearly 60 percent of entry level jobs in Guatemala now require computer skills, and CoEd wants rural children to have the same shot as their urban peers. This year, nearly 12,000 students are being served in 56 computer centers.
CoEd then turned its attention to one of life's most important skills: reading. The Spark Reading Program gives primary school teachers two years of intensive training in effective reading instruction, combined with individual support and instruction through in-class visits. The program provides each teacher with a library of books, and nearly 1,300 teachers at 141 schools have gone through the program to date or are in training.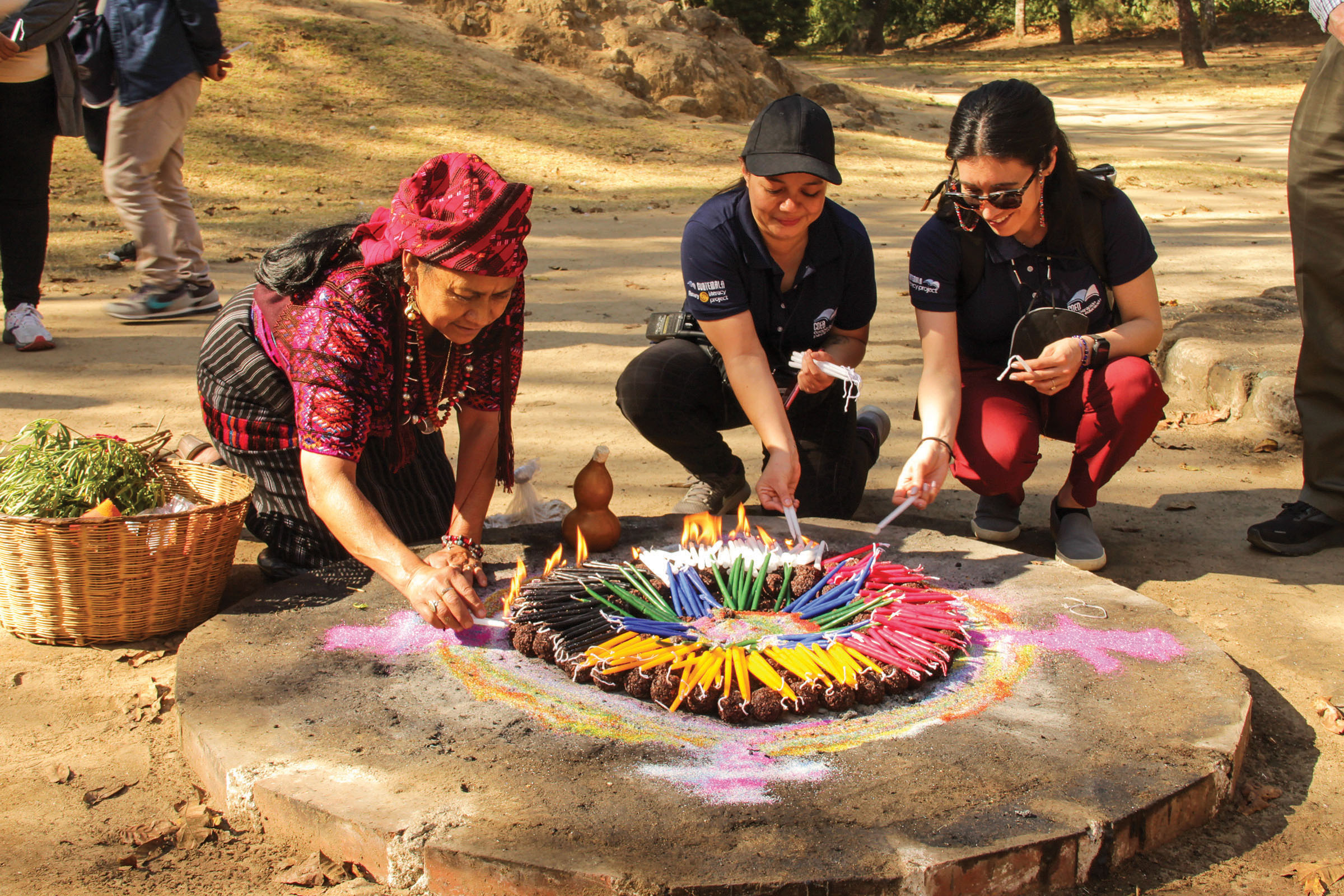 Most recently, CoEd launched the Rise Youth Development Program, which identifies promising young students who would otherwise be forced to drop out of school if they weren't provided a scholarship for school tuition and fees. The program creates a network of mentors, counselors, and peers, with workshops on leadership, career, and life skills. Once a student receives a scholarship, CoEd commits to pay for that student through his or her high school career, even if the donor drops out of the program. To date, 80 percent of Rise scholars have graduated high school and 53 percent of its graduates now help pay for a younger sibling's education.
Because Guatemalan girls have poorer academic outcomes than boys and are traditionally the first to be taken out of school, CoEd has shifted its focus to supporting a higher percentage of girls in the Rise program, Guzman explains. "Girls are discriminated against, even in their own families," she says. "Despite there being more women in the country, there are 1.5 boys in school to every girl. Also, research shows educated women have healthier, better nourished kids and are more likely to prioritize education for their children."
---
Susan and James Hunt are from Grafton, Ohio. They first heard about the Guatemala Literacy Program, the Rotary project partnered with CoEd, in 2017 and began supporting a Rise scholar. The couple took their first tour to Guatemala with CoEd in spring 2018.
"We were blown away," says Susan. "We both had been involved in many Rotary projects over the years, and this project stood head and shoulders above the rest. The opportunity to meet your student and actually see where your money goes and how it's being used was so different from other experiences we'd had."
Over the course of three trips to Guatemala, Susan says she's come to understand CoEd's broad influence and strong connections with the communities it serves. "It was the sustainability of the projects that made the biggest impression on us," she says. The tours "are the cherry on top," well planned and organized and what she calls a perfect mixture of work, fun, education, and emotional experiences.
The Hunts now support two Rise scholars—one just graduated and is planning to become a teacher—and have stepped up in other ways. They created a Rise scholarship match through the Rotary so younger Rotarians can get involved at half the cost. In 2019, they became "padrinos" (godparents) to a class of Rise scholars at one school, donating $5,000 to cover the cost of unsponsored students, program evaluation, and costs associated with matching students with sponsors. The Hunts are members of Pathways Rotary Club, which has supported textbook programs at four Guatemalan schools with commitments of $2,500 each.
It costs $960 a year ($80 a month) to support a Rise scholar. John Keleher from Aspen, Colorado, supports four. Now in his mid-80s, he took his first CoEd trip to Guatemala in 2004 for a textbook delivery tour with five of his fellow members of the Rotary Club of Aspen and their spouses, including his wife Linda, who died in 2013.
Keleher returned for tours in 2016, 2018, and 2020 with one of his grandchildren, and in February he took his fifth tour with his second wife, Suzanne Caskey. "CoEd has meant a great deal to me over the years," says Keleher, who is retired from the construction industry and counts the CoEd founders and longtime staff members as friends. "They've been very impactful. Learning to read and write is so important. This next generation will be a great benefit to the improvement of the lives of all families."
His granddaughter, Kate, went to Guatemala with him in 2020, and he says she left with an appreciation for the country's people and how hard the students—many her own age—work to stay in school with the help of CoEd and the Rotary. Now a high school junior, Kate is studying in Romania as a Rotary Exchange Student. "At present, one of the students in her high school is a refugee from Ukraine," says Keleher, "so she's not only learning about another country but learning about the politics and difficulties that exist elsewhere."
---
Joe Berninger gets the question a lot: Why Guatemala? "There are no social programs, no safety nets," he says. "We often find Mom and Dad are not in optimal health and the kids don't have optimal nutrition. They have many more strikes against them in this part of the world."
As Americans, we get to go to Starbucks and pay $4 for a venti caffe latte instead of $8, says Berninger, because someone in Guatemala is working for $1 a day. He suggests all of us check our closets and look at the tags on our clothes—there will be something assembled in Guatemala, made by a worker for $2. "We benefit from the cheap labor in this part of the world," he says. "I feel good personally about giving back and giving them opportunities because of that." And American dollars, Canadian dollars, and English pounds simply go a longer way in Guatemala.
As do the Berninger brothers. Jeff left CoEd in 2017 to help his wife Johanna launch the Idea Global nonprofit, which trains pregnant Guatemalan women, new mothers, and occasionally fathers on early stimulation, socio-emotional well-being, and nutrition for children ages 0–5. Almost half of the country's children under 5 are chronically malnourished, according to UNICEF, one of the worst rates in the world. Idea Global provides prenatal and postnatal fortified micronutrient products for children in the program and also hosts support groups for the parents.
"The secret piece of the equation is that mothers who would be raising children, maybe alone or very isolated, get a chance to talk with other mothers, and what happens is incredibly empowering," says Jeff. "They join to help their children but end up getting support for their own emotional well-being." There are currently 500 mothers and children enrolled in the program.
Jeff also formed the for-profit company Superior Decision, a human resources staffing agency that matches immigrants (many Guatemalan) and refugees with jobs in light industrial companies around Cincinnati. He continues to support CoEd as a Legacy Society member—meaning he's written CoEd into his will and estate plans—and recently gave a $25,000 gift that generates enough interest to fund one Rise scholarship each year.
Elubia Guamuch Ixcojoc, a local facilitator with CoEd who helps translate in the circle with Rudy and the other Guatemalan teens at the Rise event in February, was a Rise scholar from 2014 until graduating high school in 2017. She went on to earn a bachelor's degree with a specialization in quality management and then was hired by CoEd to run workshops and youth development activities as a local facilitator. She grew up in a village where one of the students is from, a living example that it's possible to attain a dream.
Joe Berninger thinks about each of the 278,400 students CoEd has touched. What could one young woman become? One young man? "You can change somebody's life," he says. "You can reach a hand to help and pull them up out of poverty—open up the door to the middle class—for $1,000 a year. That's transformational."
At the final dinner together on a recent tour, CoEd staff show a slideshow of photographs taken over the last five days, a reminder of all the group has done and seen together. In one, a smiling woman from northeast Ohio hands pencils to a swarm of jubilant kindergarteners. In another, a Guatemalan teen shows a woman from Cincinnati how to create a simple video game in the CoEd computer lab. Next, a couple from Arizona sits with one of their Rise scholars, sharing photos of their dog back home.
Tour members are invited to share any take-aways after the slideshow ends. Hux Miller of Cincinnati says he was thrilled to see genuine smiles on the faces of Guatemalans everywhere they went. The last time he was in the country, he was a volunteer with the U.S.-based grassroots organization Witness for Peace during the civil war. People were terrified. Their resilience, he says, is astounding.
A retired teacher speaks up. She spent a career in the classroom but says she will be forever changed having seen how hard the students, their families, and communities are working to improve outcomes for their next generations. Transformation, it seems, for all involved.
Facebook Comments