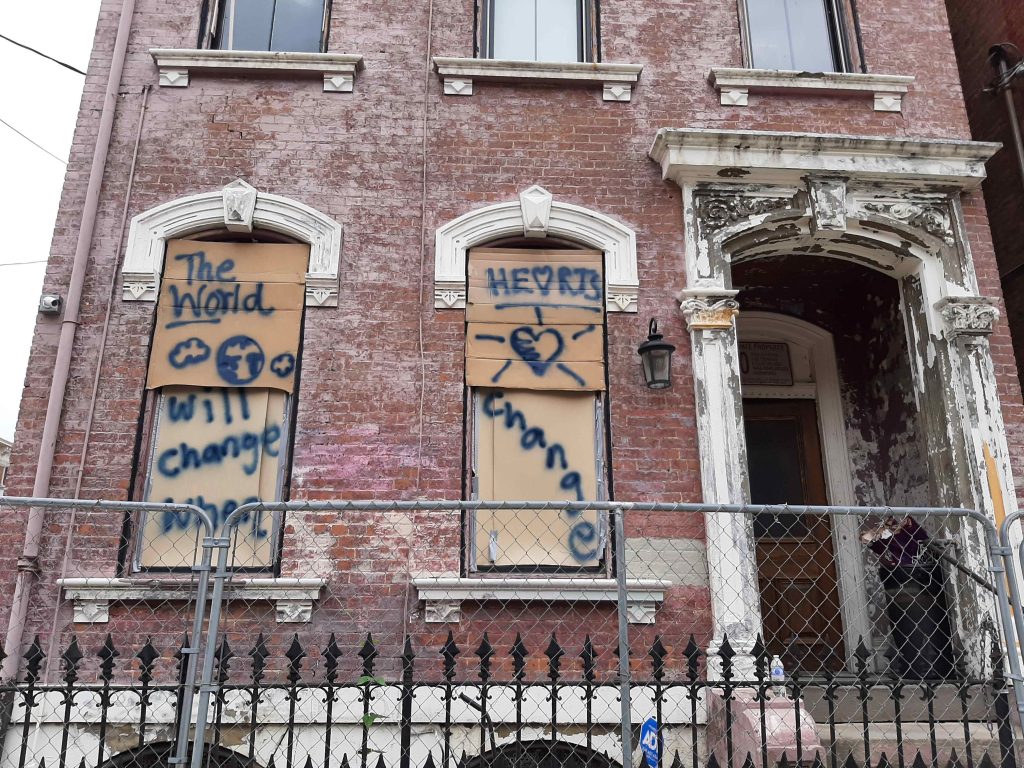 While marching during recent Black Lives Matters protests, demonstrators and spectators may have spotted an unexpected sight: a habited Carmelite nun. A senior member of the Daughters of St. Elias, a recently established, semi-contemplative Roman Catholic community of religious sisters in downtown Cincinnati, the nun has been attending the protests sporadically over the past week. She even knelt to pray the rosary during a tense moment between police and protestors. 
"People recognize the power of prayer," she says. "Five people came up to me and said, 'Thank you so much for being here. Thank you for your presence. Thank you for praying.' "
While she hasn't attended every demonstration, the nun, who cannot give her name under the rules of her order, says she could see the anger and sadness that people are experiencing. "There are people really hurting," she says. "We can't write this off to political movements. We have to really listen to people and be present to people. We have to do something."
Her presence caught the attention of Cincinnati locals, but she's also found fame on the Internet. In a video that was shared on social media, she can be seen spray painting messages like "God is Love" and "The world will change when hearts change" on cardboard that covered windows of the religious order's two buildings on Clay Street in Over-the-Rhine. 
"Who'd have thought?" she says. "We just don't want people to break the windows and we want people to be nice to each other." 
While she's been dubbed "the brave nun" on social media, she says she doesn't like that description—if it was up to her, she'd prefer "sister who loved," or maybe "the loving nun." "This is what everyone is called to, so I don't see why it should be a big deal with one person doing it," she says. "Everyone should be doing it. That's how we can heal this—heal the rift. Everyone is called to love."
While some have expressed concern about being downtown as the protests continue, the nun doesn't see a reason to worry. "We've never been so close as a community," she says. "Everyone is reaching out to everyone else. There's so much of a community spirit. I feel more united than ever before."
Facebook Comments